Who doesnt want to work smarter in the kitchen? A great tip to remember is to?keep your knives sharp.?Dont let them go dull!?A sharp knife definitely speeds up prep work in the kitchen.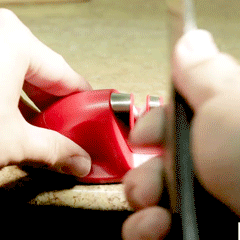 Product Features:
Big Results:?This gem sharpens damaged and dull knives with just a few pulls through the coarse slot. This slot includes carbide blades at preset angles to quickly bring a dull knife back to life. Then quickly finish and polishes the knife edge with just a few pulls through the fine slot.?
Small Size: Ideal for storing in your knife drawer and for anyone with a small kitchen or little storage space.
Stable&Safe:?Allows sharpening on the edge of the table or counter top, prevents the tip of larger knives from dragging over the surface of the counter, added stability and control.
Product Details:
Size:?9.5 * 5 * 4.2 CM
Color:?Red, Black, Green
Item Weight:?70g
Package Includes:
1 X Knife Sharpener 2 Stages
When you do not have a PayPal account and want to pay with a credit card, you can follow this process:
Step 1. At the last step of checkout, select PayPal as the payment method for the complete order.
Step 2. On the PayPal payment page that pops up, find the Pay with Credit or Debit Card button and click to enter the next step.
Step 3. Then you will see the credit card payment page, after completing the requirements, see the bottom of the page, click Pay Now to complete the payment.